DECEMBER 3, 2019, NEW YORK – Nikolay Royenko, Miratech President, has been awarded the Spanish Order of Civil Merit by King Felipe VI of Spain. This prestigious award was bestowed by Silvia Josefina Cortés Martín, Spanish ambassador to Ukraine, at a ceremony held at the residence of the Spanish ambassador on November 27, 2019.
Nikolay Royenko was given this award to honor the contributions Miratech has made to Spain in developing IT, business, and technology fields since the opening of its Seville office in 2018; and more recently, in promoting economic exchange between the two countries.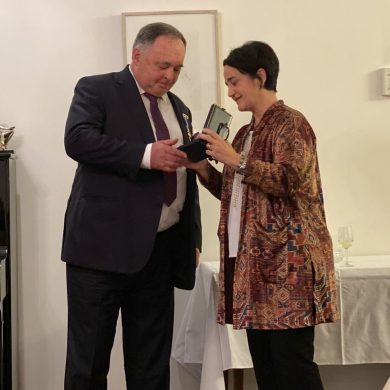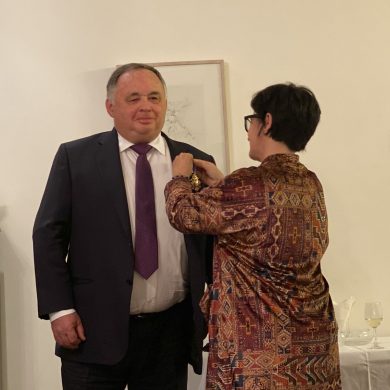 Known as the Orden del Mértito Civil in Spanish, this exalted medal of honor is granted to Spanish nationals or foreigners whose contribution to social development work has had extraordinary value. The Order of Civil Merit was established by King Alfonso XIII in 1926 to "reward the civic virtues of civil servants as well as the extraordinary services to the Nation of Spanish and foreign subjects."
"I am honored to be selected to receive the Order of Civil Merit in recognition of my contribution to strengthening the relations between the two countries and developing the IT industry. This would not have been possible without the support and dedicated work of Miratech's international team. I would like to express my sincere gratitude to His Majesty King Felipe VI for deeming me worthy of the Order," said Nikolay Royenko, speaking at the ceremony.
 Contact for Media
Stewart Christ, Miratech Group, Senior Vice President, North America
Tel: +1 202 470 0845, e-mail: marketing@miratechgroup.com
About Miratech
Miratech helps visionaries to change the world. We are a global IT services and consulting company that brings together global enterprise innovation and start-up innovation. Today we support digital transformation for the largest enterprises on the planet.
By partnering with both large and small players, we stay at the leading edge of technology, remain nimble even as a global leader, and create technology that helps our clients further enhance their business. Our culture of Relentless Performance enables over 99% of Miratech's engagements to succeed by meeting or exceeding scope, schedule and/or budget objectives since our inception in 1989.