August, 15, 2022, NEW YORK – Miratech, a global leader in IT services and consulting, is honored to become a Founding Sponsor of the Ukraine House DC Foundation, a non-for-profit non-partisan organization based in Washington DC.
Working in close collaboration with the Embassy of Ukraine in the USA, Ukraine House supports Ukraine by donating, investing, sharing, communicating, speaking up, and helping to give the country a stronger voice. Their initiative has become increasingly relevant today as Ukraine continues its fight for freedom.
As a Founding Trustee for the Ukraine House, Miratech has engaged in outreach to the US and international business communities, supported information and education events, and worked with the leadership team in the development of strategies for fulfilling the core missions of the Ukraine House. The organization's grand opening took place on September 1, 2021, and was officiated by the President of Ukraine Volodymyr Zelenskyy and the official Ukrainian delegation during the Presidential visit to Washington DC.
During its first year of existence, the organization hosted over 50 enthusiastically supported events and welcomed over 5,000 guests and visitors. After Russia invaded Ukraine on February 24, in just 3 months, the Ukraine House collected $5 million for United24, the platform launched by the President of Ukraine Volodymyr Zelenskyy as the main venue for collecting charitable donations in support of Ukraine.
Miratech's CEO, Valeriy Kutsyy, who serves as a member of the Founding Sponsor Trustee Honorary Board, commented, "We are excited to support the Ukraine House in Washington DC. The time for all businesses to support Ukraine has never been more right."
Marianna Falkova, Director of the Ukraine House DC, states, "Ukraine House is proud to have such modern, high tech and innovative partner as Miratech".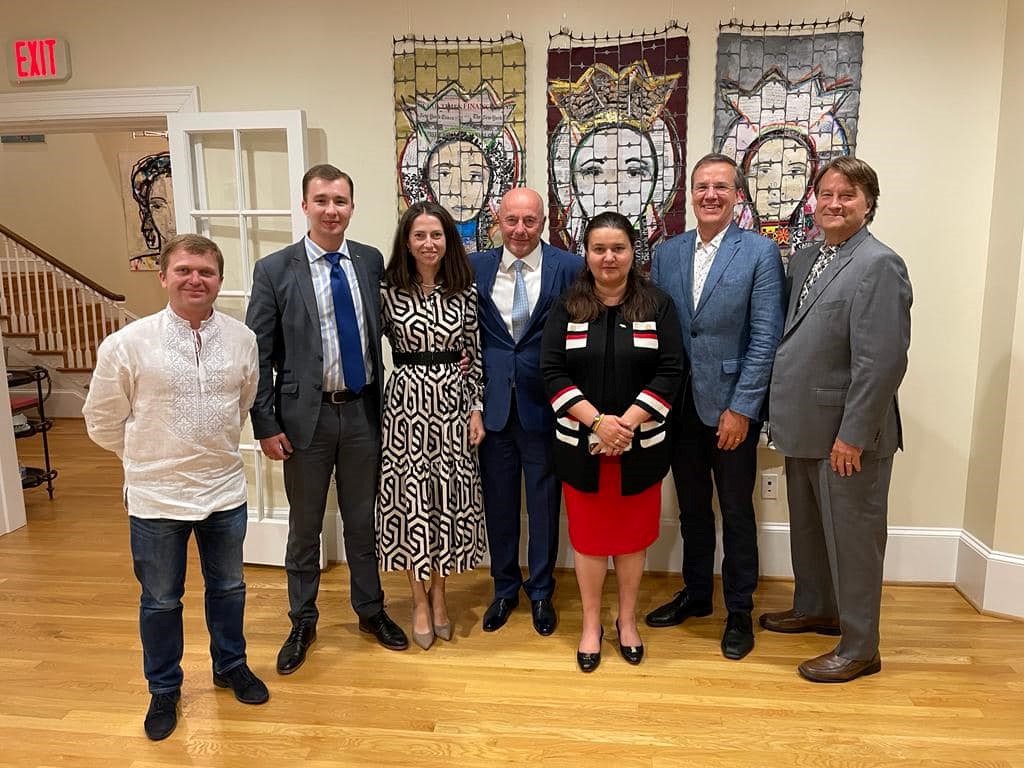 Contact for media:
Tel: +1 212 858 7600, email: marketing@miratechgroup.com
About Miratech
Miratech helps visionaries to change the world. We are a global IT services and consulting company that brings together proven global enterprise processes and methodologies and start-up innovation. Today we support digital transformations for the largest enterprises on the planet.
By partnering with both large and small players, we stay at the leading edge of technology, remain nimble even as a global leader, and create technology that helps our clients further enhance their business. Our culture of Relentless Performance enables over 99% of Miratech's engagements to succeed by meeting or exceeding scope, schedule, and/or budget objectives since our inception in 1989. For additional information about Miratech, please visit www.miratechgroup.com.
About Ukraine House
Ukraine House is a non-for-profit non-partisan organization based in Washington DC. A home away from home for many Ukrainians by birth, Ukrainians by choice, and all the many friends of Ukraine. A platform for all Ukraine themed get-togethers. A place where people passionate about freedom and democracy unite to develop ideas and initiatives.