NEW YORK, July 21, 2023 – Miratech, a leading global IT services and consulting company, is pleased to announce that it has received an investment from IFC, in partnership with Horizon Capital. This historic collaboration is part of IFC's $2 billion Economic Resilience Action (ERA) program, launched last year to preserve economic activity and job creation amid Russia's invasion of Ukraine.
Miratech plans to utilize the investment to fuel its scaling efforts, enhance its industry position, and generate new job opportunities in Ukraine's thriving IT industry. With the backing of IFC's ERA program, Miratech is poised to strengthen its market presence and contribute to the resilience and competitiveness of the IT segment.
The investment highlights the company's remarkable growth and expansion, solidifying its position as a key player in the global IT services market. This deal also represents a significant milestone for Ukraine's technology sector, attracting attention and investment from around the world.
Valeriy Kutsyy, CEO of Miratech, expressed enthusiasm about the partnership, stating, "Miratech's legacy as one of the first IT companies established in Ukraine 34 years ago drives our longstanding commitment to supporting the country's development and job creation. We seek partnerships with organizations that share our goals and priorities. By joining forces, we will accelerate growth, drive innovation, and contribute to Ukraine's bright future."
Ukraine's tech industry has demonstrated remarkable growth despite very challenging circumstances, generating 180,000 jobs between 2017 and 2022. To sustain this positive momentum the sector requires better access to capital, and IFC is committed to supporting the Ukrainian private sector following Russia's invasion and helping address immediate needs in critical sectors such as agriculture, tech, and critical infrastructure.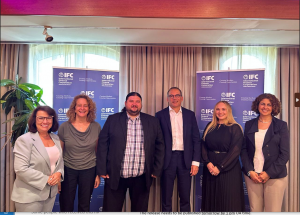 "A strong private sector is key for Ukraine's economic revival. Ramping up access to finance for businesses is pivotal to counter the macroeconomic turbulence and supply chain disruptions currently hampering economic activity in the country," said Alfonso Garcia Mora, IFC's Vice President for Europe, Latin America, and the Caribbean. "IFC is committed to ensuring access to credit and boosting innovation as the key preconditions for Ukraine's recovery."
IFC's efforts to safeguard the resilience of Ukraine's private sector and ensure the provision of essential goods and services have been ongoing since February 2022, during which time IFC has committed over $300 million in private companies and financial institutions, including $189 million through guarantees under IFC's Global Trade Finance Program.
Contact for media: Tel: +1 212 858 7600
Email: marketing@miratechgroup.com
About Miratech
Miratech helps visionaries to change the world. We are a global IT services and consulting company that brings together proven global enterprise processes and methodologies and start-up innovation. Today we support digital transformations for the largest enterprises on the planet. By partnering with both large and small players, we stay at the leading edge of technology, remain nimble even as a global leader, and create technology that helps our clients further enhance their business.
Our culture of Relentless Performance enables over 99% of Miratech's engagements to succeed by meeting or exceeding scope, schedule, and/or budget objectives since our inception in 1989. For additional information please visit miratechgroup.com.
About IFC For more information about IFC, visit www.ifc.org.